"PARS 4 PAWS" CHARITY GOLF TOURNAMENT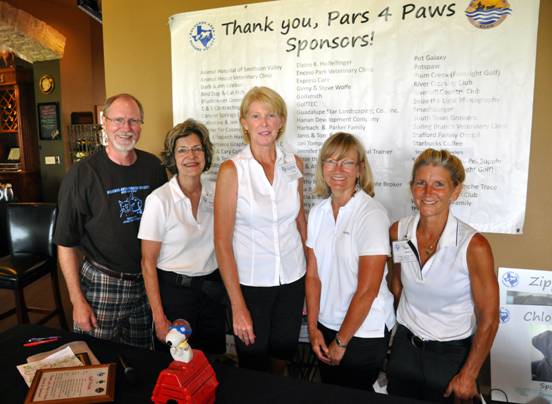 The River Crossing Club held its First Annual "Pars 4 Paws" Charity Golf Tournament on June 25, 2012 to benefit the Bulverde Area Humane Society. More than 92 golfers registered and played in the tournament. The event raised more than $8,500 for BAHS plus an additional $1,000 in food and toys that were generously donated by the participants. Sixty mostly local businesses and other donors helped sponsor the tournament. "A hearty thank you to the 92 players and all the volunteers who helped make this a very successful golf benefit," BAHS President Richard Lindell said at the awards luncheon. Over $5,500 in prizes was awarded to winners of the golf tournament and raffle. The tournament was a win-win for everyone involved.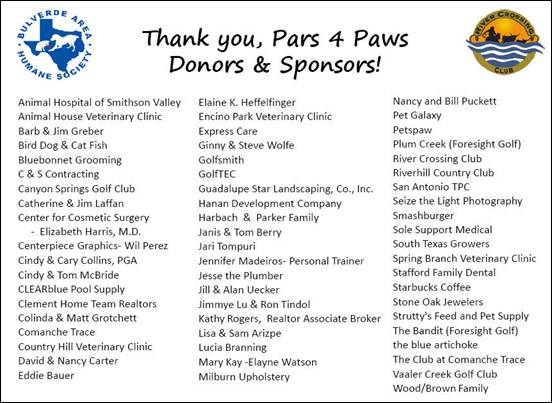 Tournament Winners:
1st Place Gross Winners: Geoffrey Miller, Les Lawless, Greg Petsch, Denny Rosenfeld
1st Place Net Winners: Doug Ferris, Kyle Ferris, Paul Idstein, Jim Cramer
2nd Place Net Winners: Elizabeth Harris, Mansel Harris, Rustin Adams, Billy Wilson
3rd Place Net Winners: Pam Delaplane, Phil Delaplane, Nathan Nixon, A. J. Montecinos
4th Place Net Winners: Steve Hanan, Linda Hanan, Jerry Merck, and Ritchie Merck
Last Place Mike Bray, Joe Dog Daughtry, Gary Heath, Mark Kirchoff
Closest to the Pin #2: Pam Delaplane
Closest to the Pin #12: Jerry Stewart
Putting Contest Winner: Denny Rosenfeld
The funds raised by the tournament will be used by BAHS for; medical care, the spay & neuter program, pet food, utilities, and capital improvements.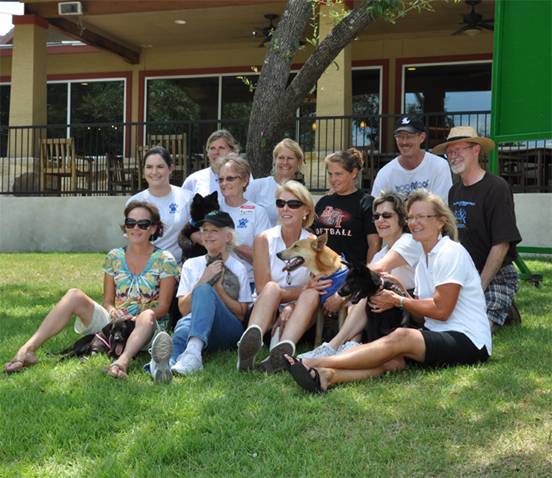 Many BAHS volunteers were also on hand to provide information about the shelter and to showcase several of the BAHS dogs and Cats that are available for adoption.
Mark Your Calendars: The next River Crossing Club Charity Golf Tournament to benefit BAHS is already on the schedule for 2013. So whether you are a golfer, a fan, or a supporter of your local animal shelter, save the date for next year's event: Monday, October 14, 2013, at the beautiful River Crossing Club.